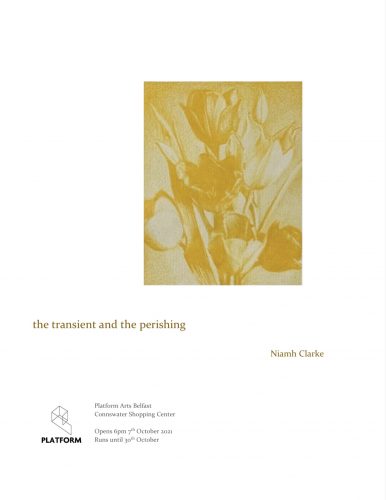 Platform Arts is proud to present our upcoming exhibition by Niamh Clarke, "the transient and the perishing"
Opening night- Thursday 7th October 6pm-9pm.
Exhibition continues Wed-Sat until 30th October.
Soft smooth petals wrap around each other like silk, the fragile embrace, a nurturing armour, for a brief graceful life. In aging they wither, fall, expire. Milky gold turns to autumn brown. Lovely even in the state of withdrawal.
A low light flickers, the room moves in the shadows, objects swimming in the yellow gold of the grey room. The blush portrait glances upon the reflection of another. Once those arms held him, a slight movement of the head revealed all intention, a child acted out the memories of a lived life, as though it existed in the body long before.
The song bled into consciousness, splitting all in two; the time that was and that that now is. A hand reached, another set free. Each memory is veiled through the next one and who can say the true way of it. All that remains is a tarnished reflection.
Is this the after-sorrow?
Niamh Clarke is a recent Fine Art graduate of University of Ulster and works predominantly in drawing, with works also including text, video and watercolors, all considered expanded forms of drawing. The re-drawing of found and personal photographs reflects an interest in memory and temporality, a focus is placed on the embodied presence of gesture and materialisation.
"[A} painful shock of rejuvenation' (Benjamin 2015 p206)
In this description of Proust's 'memoire involuntaire' Walter Benjamin describes a moment from our past that is recalled by chance through the senses and is connected to a previous lived experience in which the past state of internal and bodily experience inhabits the present. In the use of the drawn image the artist hopes to invoke the personal and collective memory of the viewer along with the inhabited bodily experience of drawing.