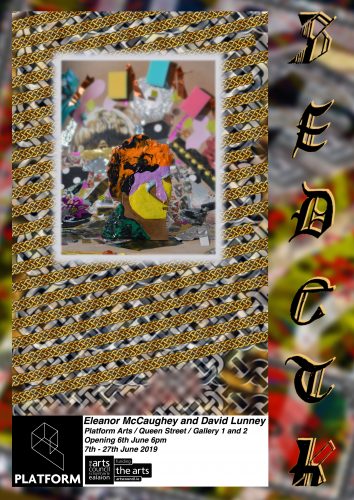 Exhibition Opening: Thursday 6th June 2019, 6-9pm.
Exhibition Continues: 7th-27th June 2019.
Bedeck, the action of making something more attractive, of clothing it in finery.
David Lunney and Eleanor McCaughey both use painstaking and idiosyncratic processes in their art practices. To examine these intersections in artistic approach in a fun and highly wrought fashion they have commenced this project, Bedeck with a flexible conceptual framework in which to engage in rampant visual experimentation. This installation utlises a very wide variety of materials; paintings, animation, drawings, all manner of reflective materials, colourful fabrics, photoshopped patterns, weaving and ceramics. In this wacky grotto references common to both of our work will be mashed together, including ancient Irish symbolism, Celtic pattern, motifs religious and spiritual as well as expressive mark-making and vernacular craft.
This project is kindly supported by the Arts Council Ireland.
_______________________________________________________________________________________________
Eleanor McCaughey is an Irish artist living and working in Dublin. Eleanor has exhibited both nationally and internationally including the National Portrait Gallery London, The Dock, Ireland, Galerie C.O.A, Canada. She was awarded the Arts Council Ireland, Next Generation Award 18/19, the Conor Prize for a figurative work from the Royal Ulster Academy  and the KM Evans Painting Prize, from the Royal Hibernian Academy.  Her work is represented in the OPW art collection and private collections in Ireland, Europe, United States and Canada.
https://www.eleanormccaughey.net/
David Lunney is a Dublin based artist. His practice is process-led, in the making of any given work he uses a wide variety of materials and media. He uses The Dublin Mountains both as his main source material and guerrilla sculpture garden.
He has recently had solo exhibitions at MART Gallery, Pallas Projects, The LAB, Eight Gallery and Droichead Arts Centre and participated in shows in The Dock, RUA RED, Pallas Projects, Catalyst Arts, LACE Los Angeles and 126 Gallery.
Photo Credit: Simon Mills