Platform Arts presents Parallel [in]Between by Kate Murphy and Ellen Duffy.
– a collaborative show of site-responsive sculptural installations.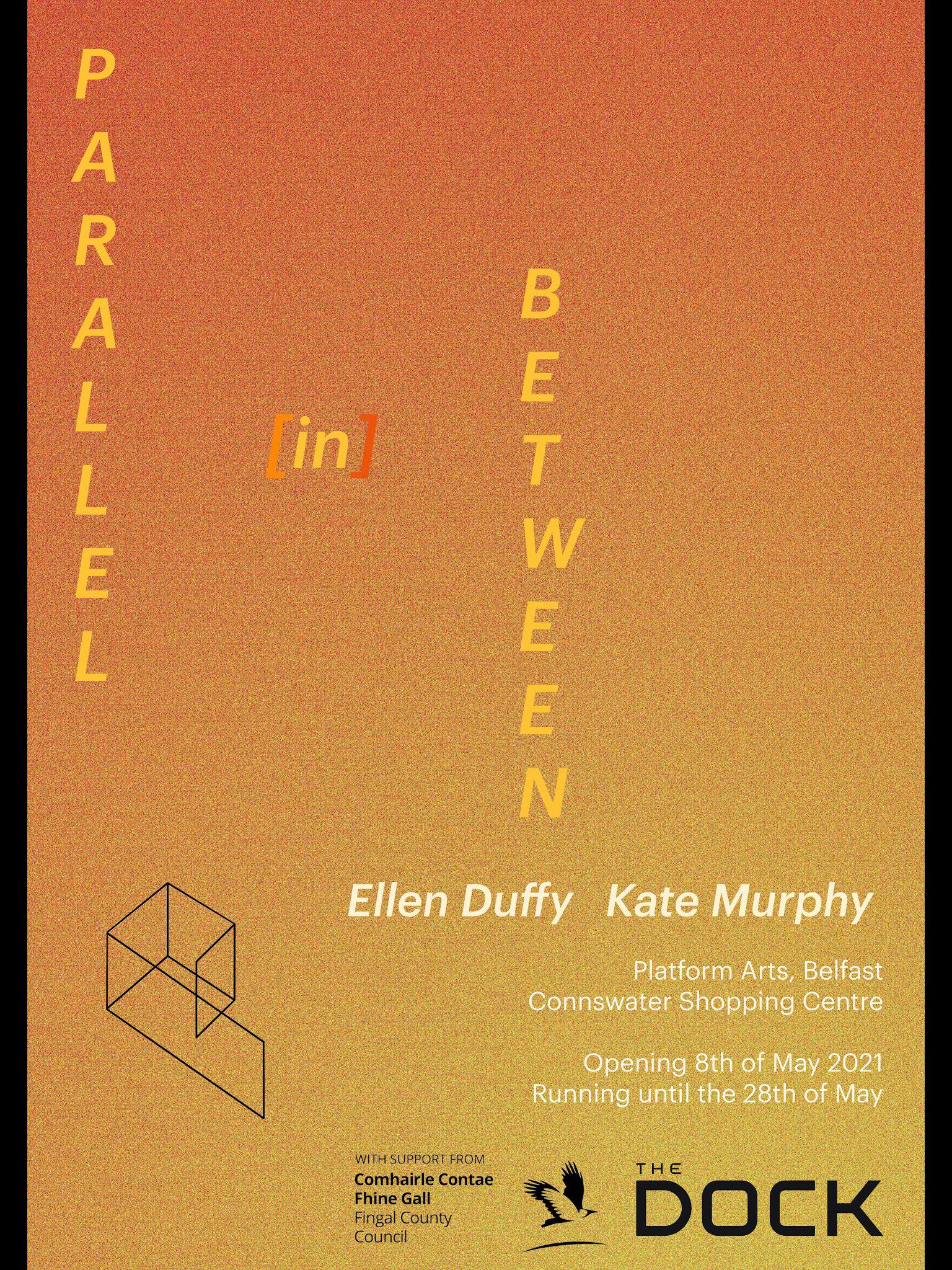 Platform presents a collaborative show of site-responsive sculptural installations by Ellen Duffy and Kate Murphy. Parallel [in]Between is an exhibition born out of the pair's collaborative project of the same title that has been ongoing since early 2020. This iteration of the collaboration follows a series of events and collaborative happenings that lead to the body of work presented in Platform Arts Gallery. Utilising the tools garnered from working on their collaborative commission, they build on the vernacular established while working together extensively over the last year. This show will exercise their personally developed visual language and engagement with the gallery as a new site. There is a learned balance that has developed over the course of Parallel [in]Between's journey, and it is one that is at constant play.
This long term project played out in a series of formats, beginning with the exchange of a series of collages, writings, images and small sculptural objects. Both artists' worked on top of the materials and sketches that they received in the post, interjecting themselves into the others' work. A dialogue began that freed up expectation and any preciousness one might have towards their own work. It enabled them to engage haptically with work other than their own and build upon the frameworks set by their individual practice, allowing scope to take on new ways of thinking about collaborative art making.
In late 2020 they reconnected for four days of making and conducting material research in the BKB Studios, Dublin. Working collaboratively to create a number of assemblages through material exploration and responding to the characteristics of the space. They utilised processes of cast-making and assembling to build site-responsive works while taking time to reflect and reconfigure over the four days. This time provided them with as many questions as answers. They had completed works, works yet to be figured out and small scale material explorations with a future. All of which held equal importance. This project was not intended for answers or even an ending for that matter. Questions beget more questions and this, in fact, works for their collaborative practice and as artists. As it was and is that in-between space that gives them the freedom to move around. Much like the earlier stages in their project they sought not to allow the work to become complete in a way that was 'too finished'.
The pair share core values that impact how they make work. The importance of materiality, the dependence on the work's response to a site and a process led practice. These key factors manifest in sculptural installations for both of them. However, it is at that point they start to diverge. Ellen's assembling process involves free-form decision-making that utilises found/discarded and industrial materials, incorporating them into fabricated structures that create interdependent assemblages. Kate implements a more rigorous set of rules, taken from industrial processes – such as cast making, woodwork and welding – to exercise the points between object and space. Kate considers looking, reflecting and spending time within the boundaries of a site an important aspect of how she fabricates her sculptural interventions in space.
Throughout the year the pair both worked through their copies of Contemporary Japanese Sculpture by Janet Koplos. Her chapter 'Sculpture as Relationship' resonated with both artists' practices in a significant way. When discussing the work of Mono Ha artis Lee U-Fan, she writes "… the materials do not merge into a unity but retain their separate identities and play off each other in weight, form, colour, etc.". The relational network of things are built in response to one another – in balance with one another and the space of the gallery. Kate and Ellen fabricated and assembled this installation based on structural and spatial characteristics of the install site.
Alongside exhibiting together in Platform Arts in May 2021, Ellen will also be showing in Second Summer, in The Dock Arts opening in May and later in the year in the Draiocht in group show 'Platform'. Kate has been curating and facilitating a site-orientated project titled Non-Events, including Ellen and four other artists; Aine Farrelly, Emma Griffin, Rachael Melvin and Lucy Tevlin. Kate's exhibition design and the artists' responses to the project will be shown in the newly established, artist-run Arcade Studios, Belfast this August. Kate's solo-show in Ballina Arts Centre, Mayo will open in mid 2022.
*
Documentation of the exhibition
Photography by Simon Mills
Artist Bios
Ellen Duffy is a Visual Artist based in Dublin, Ireland.
Her practice is rooted in the idea that materials and objects give power to one another by the role they play in the assemblage. Her haptic way of making is driven by curiosity and doubt. She utilises found/discarded materials and through her process she creates a dialogue between them resulting in playfully provisional installations. The relationships between the objects in her installations are activated through an associative process. These objects contained in a given installation disassemble and reassemble and exist in a perpetually changing state, creating infinite networks. In addition to the conversations that occur within the work, it is also reliant on the space it occupies. Her work speaks of the inter-reliance between the objects and their interaction within a space and the viewer. Ellen uses a range of materials and objects to create her assemblages. She is interested in exploring how the different materials give power to one another through their role in the assemblage. Her work attempts to look at the world as existing in perpetually changing assemblages that create infinite networks. Her haptic way of making is driven by curiosity, doubt and a determination to figure out limitations and how to push beyond them.
Ellen received her BFA(hons) from The Technological University of Dublin in 2019 and garnered early attention after a successful graduate show. She was selected to be in the RDS Visual Artist Awards 2019 – curated by, the late, Janet Mullarney and David Quinn. And winning the RHA Graduate Studio Award.
Other past shows include: 'Sympoetic', Farmleigh Cowshed, Dublin; 'Ellen Duffy: Works on Paper' at The Sarah Walker Gallery, Cork, 2020. Upcoming shows include:'Platform' at The Draiocht, 2021; 'Parallel [in]Between' at Platform Arts, Belfast, 2021; The Dock Arts Centre, 2021; 'Non-Events' at Arcade, Belfast.
*
Kate Murphy is a Visual Artist based between Kildare and Dublin.
Kate's sculptural practice relies on a comprehensive engagement with materials, process led making and spatial perception. She fabricates and welds steel structures from box steel and uses mould making processes with concrete and plaster. Her practice deals with the process of humans organising, moulding, dividing and manipulating space. Construction, destruction and reconstruction through a study of materials and an attempt to make sense of the assemblage and design of art installations. An exploration of boundaries be-tween object and place, the physical and illusional boundaries and restrictions that occur. An intention to expose these boundaries of a site as genuinely as possible. Re-framing and re-representing them through sculptural objects and interventions highlighting the moments of in-betweenness that occurs within the intersection of different materials. A significant importance of her practice revolves around an inter-reliance and balance that occurs both structurally and spatially when the objects meet their site. Kate is particularly interested in aspects of Japanese culture that are thought to have influenced early contemporary Sculpture from the 1960's onward including Japanese tea houses and garden design. For example how the presence and significance of objects in the Tea Houses are given sculptural significance due to the way space is organised around them.
Kate is a visual artist/curator and co-director of Catalyst Arts, Belfast. She received her BFA(Hons) from TUD, 2019 and won the Graduate Residency and Bursary Award for Sculpture in Fire Stations Artists Studio Ltd. Kate exhibited/curated works in the Sarah Walker Gallery, Cork 2020. She is part of an International Curatorial Programme with NODE, Berlin.
Kate is curating and facilitating a site-responsive group project 'Non-Events' which will be shown in Arcade, Belfast in August 2021. Upcoming shows include; 'Parallel [in]Between' at Platform, Belfast in May 2021 and a solo show in Ballina Arts Centre in 2022.