PROXY SPECIAL
Group Exhibition
7 – 22 March 2014
Opening: 6-9pm on 6 March
Laura Duran, Daniel Lichtman, Laura Morrison, Ciarán Ó Dochartaigh, Benjamin Orlow, Elaine Reynolds and Eoghan Ryan. With an accompanying text by Nathan Witt.
Opening Night Events include a performance by Daniel Lichtman and an intervention by Ciarán Ó Dochartaigh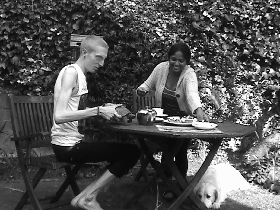 A handout had been produced to accompany the exhibition, download it now: Proxy Special
Proxy by nature – I do not want to name these people and thankfully I do not have to. Not addressing them by the names they were born with and especially not addressing them by the acts that they have committed. We might make the presumption that these people have already called themselves artists on their own volition, their own proxy, but that seems largely irrelevant in the face of a deepening chiasmus when we wish and demand that these people have extended great effort to precisely articulate things – or to illustrate the grotesque exclamation of what our democratic rights may be. It's nice to think of art as a legal aberration: a collective aberration of any understanding of inhabitation, of leaving, hiding and returning. Or of those many disorientating moments in transit when we pause to observe a dexterous play amongst others, or a perverse chilling torture, or hopefully a moment of pure simple diffusion only to be then violently punctuated by another ancient agonistic ritual returning us back to this dark chiasmus.
In our bizarre legal sphere, there are now animals as Internet users (some possibly better than us) and semi-cyborg manual labourers. Beautifully some species have been afforded their own legal rights to exemplify them from humanity's corporate grasp but watching these new forms of animals cannot save them from extinction, particularly by them becoming more like us and us, inadvertently more like them. These people I think are trying to avoid such deepening types of conceit and are wary of their fetishization. Proxy possesses this awful agency with very little emancipation, so please be kind to these rare creatures. No one asked to be here. They are condemned too, as amateurs of everything, except the singular name of the activity they do.