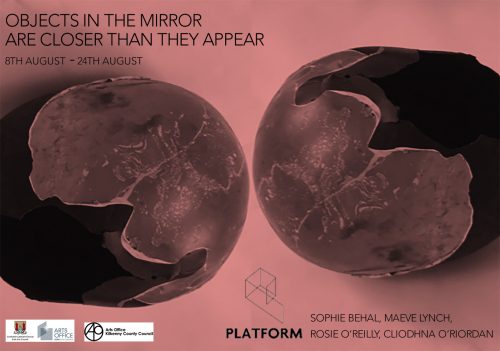 Exhibition opening Thursday 8th August, 6-9pm 
Exhibition continues 9th – 24th August 2019.
Title: OBJECTS IN THE MIRROR ARE CLOSER THAN THEY APPEAR
Artists: Sophie, Behal, Maeve Lynch, Rosie O'Reilly, Cliodhna O'Riordan
A site responsive exhibition of sculpture, installation, works on paper and audio visual works by
artists Sophie Behal, Maeve Lynch, Rosie O'Reilly and Cliodhna O'Riordan.
Drawing on Husserl's phenomenological analysis of perception the work in the exhibition will be
conceptually linked by investigations into the object and the experiencer as fluid entities;
dissolving, melting and transient.
Artist Statements
Sophie Behal (b.1989) is a visual artist based in Dublin.She works mainly in sculptural
installation, which can include audio, text, photographic, video and performance elements. Her
work explores the space between thinking, language and making. Often the nature of the project
is pre- verbal, in that it tries to grasp an experience that we know well but cannot name. This
tension at the core of the practice between language and making is a generative element for
works. Her work exists in an attempt to dissolve language and reevaluate the narrativity implicit
in artistic creation. Sophie's work is characterised by an attention to the inherent qualities of
materials and their relationship to time. She is interested in the historical relevance of materials
and the form that artworks embody is driven by an active material experimentation and research
period. These materials whilst in a state of becoming and possibility suggest things still in a
state of flux, the negotiable delicate balance of things in this world and the constancy of change.
Maeve Lynch's work is driven by her interest in perception, materiality, and structures. She
works in a variety of media including print, sculpture, installation and sound. Her work is
concerned with architecture and landscape as site and manipulating the space within existing
structures through installation, video and sound. She explores the transformative potential of
materials and their potential to blur the line between two and three dimensionality.
"The physical thing itself: it itself is there. But, in being there itself, the physical thing has for the
experiencer an open, infinite, indeterminately general horizon, comprising what is itself not strictly
perceived." (Husserl 1999. Husserl, Edmund. 1999. Cartesian Meditations: An Introduction to
Phenomenology, Dordrecht: Kluwer Academic Publications.
Rosie O'Reilly's work is concerned with the rationalist-constructivist view of nature that
separates it from human experience with a focus on building connections in a world we are
physically entangled with but have been trained to think apart from. She is interested in how
stories are told and how they need to be retold to invade the knowledge structures that continue
to reinvent borders.
Cliodhna O Riordan's sculptural process is intensely physical. Potent matter energy is
expressed through the marriage of dull materials such as 'Gone Off 'poster paints and
styrofoam. Invisible forces determine the structure and behaviour of the physical within negative
spaces.
This exhibition is kindly supported by the Arts Office of Cork City Council and the Arts Office of Kilkenny County Council