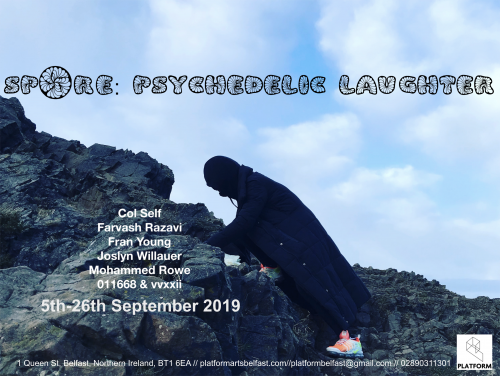 Exhibition Opening: Thursday 5th September 2019, 6-9pm
Exhibition Continues 6th-26th September 2019.
Exhibition Title: SpOre: Psychedelic Laughter
Artists: Col Self, Farvash Razavi, Fran Young, Joslyn Willauer, Mohammed Rowe, 011668 & vvxxii
Col Self is a London-based artist who graduated in media from the Slade UCL (2012), moving image from the Royal College of Art (2018), continuing at the RCA as a PhD candidate (LAHP scholarship) with supervisors Dr Ben Cranfield and Tai Shani. The work researches ritual magick and post-capitalism, asking if counterculture is truly dead within a surveilled neoliberal environment. the practice is often collaborative through the collective SpOre, initiated by Self in 2018. SpOre is a nomadic, interchangeable, geographically scattered network of artists emerging with the ritualistic, hallucinogenic and the virtual through performance, moving image, sound and installation. Recent shows include Fig.1 Limelight (Muddy Yard, London, 2018), Throbbing Muscles (C.Rockerfeller Centre for Contemporary Art, Dresden, 2018), and The Same Tendency (Summer Hall Gallery, Edinburgh, 2019).
Psychedelic Laughter includes artists Farvash Razavi, Fran Young, Joslyn Willauer, Mohammed Rowe, and 011668/vvxxii. A combination of Rowe's cosmic frequencies, Young's drone organ music, Willauer's digital tentacular thinking, and 0011668/vvxxii's virtual alien sporing activates the central ritual space created by Razavi and Self. This space speculates on the possibility of magick to operate towards progressive futurity in resistance to the closure of the Capitalocene, working within rather than without its products and symbols. Psychedelic Laughter looks towards collective spaces and a potential politics of joy from the place of hopelessness, contributing to a historical language of the struggle for utopia.
Photo Credit: Simon Mills (www.photosby.si)