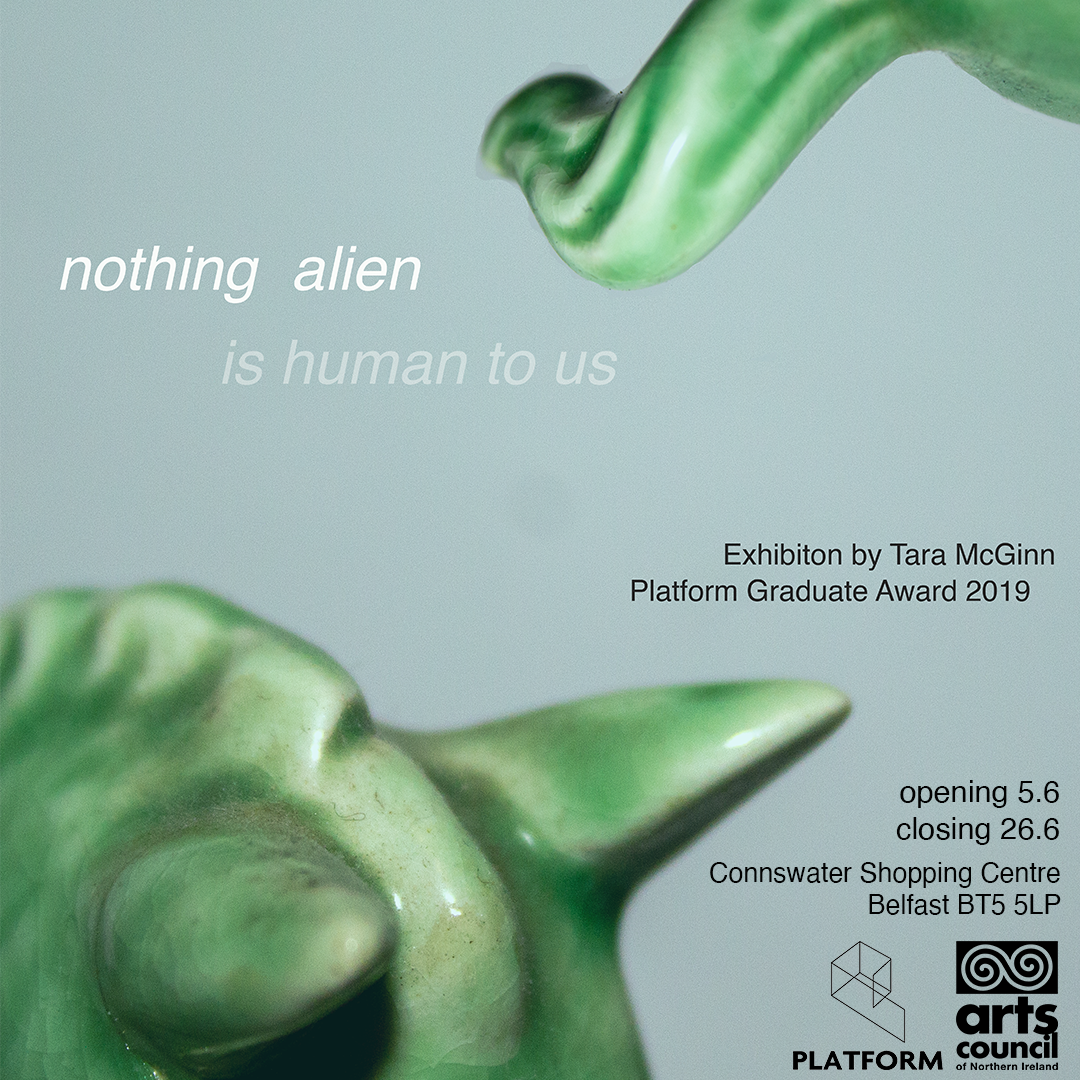 Nothing Alien is Human to Us is an exhibition of new work by visual artist Tara McGinn. 
In this new, ongoing body of work, she explores themes of historical absence and the uncanny in relation to domestic space, after a period of heightened anxiety and close proximity to her family home. Using narrative and fiction as a frame to explore objects, she employed mimicry and repetition through casting as a site to reify the cultural and sentimental values of her surroundings. Initially, she reacquainted herself with artefacts acquired through the line of matriarchal inheritance such as dishware, kitchen utensils and Pyrex paraphernalia. In her writing, she responded to the varying status these wares maintained to remain in circulation or to be redefined as obsolete. She reflected on how this determination also applied to the user; the obliging and invisible domiciliary worker, the unpaid (and usually female) counterpart of the homogenised home. The work developed to quietly subvert domestic roles aligning with gender bias that then impacts the worth of unseen labour. By incorporating tradition and reappropriating form, the surreality of a domestic interior becomes a space to collapse and rebuild a reimagined household.
Tara McGinn combines sculptural reproductions, reflective writing and image-based assemblages as a layering device to interrogate meaning and reshape language. Her interdisciplinary work responds intuitively to media and how the truth can be transformed into a spectre of itself. She embraces the malleability of forms through storytelling; developing narratives that translate her studio processes and research to connect subjects of trauma, memory, identity and space. 
She is the recipient of the Platform Arts Graduate Award 2019. Her project was realised with support from the Arts Council of Northern Ireland's Individual Emergency Resilience Programme 2020.   
Documentation from the exhibition
Photography by Ben Malcolmson
Tara McGinn
Tara graduated in 2015 from the Wexford Campus School of Art and Design, receiving the Student Purchase Award for the IT Carlow Public Collection. Tara founded the collaborative performance duo 'Beef or Salmon' who performed in both Wexford (2015) and Dublin(2016) and a solo performance as part of the Evolving Arts Festival in Wexford (2017).
Tara became involved with the Living Arts Project (2015-17) in partnership with the Wexford Arts Centre and Wexford County Council as an artist in residence. Until commencing the MFA at Belfast School of Art. Graduating in 2019, she received the interim Hammerschlagg Award (2018), the DAS Graduate Residency and Platform Arts Graduate Award. Tara is currently a co-director at Catalyst Arts Gallery in Belfast and an Arcade Studios Member.
To keep up with upcoming projects and exhibitions
Follow Tara on Instagram @the_happy_heifer
or visit Tara's website: https://www.taramcginn.com/