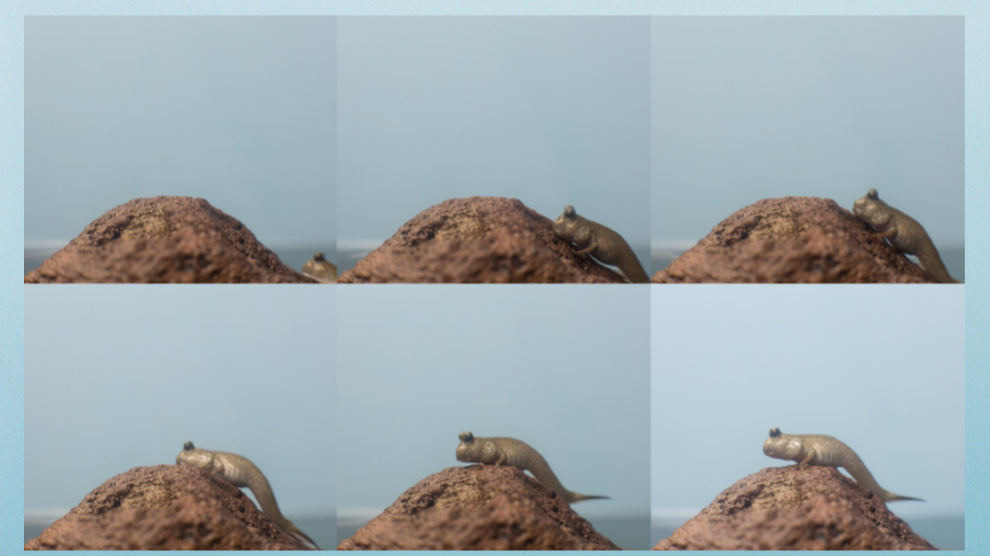 Mudskippers are amphibious fish. In addition to swimming, they walk on land using their fins. Their eyes are mounted high on their heads, giving them panoramic sight. The fish spend most of their time out of water, on a shoreline or clinging to rocks. There they remain motionless for hours, perhaps in the act of contemplation, while perceiving the world around them.
Platform Arts is proud to present 'Life on Land', a multi-format solo exhibition by Dublin-based artist Steve McCullagh. The exhibition activates our awareness of the space that exists between objects, and perception itself. McCullagh's practice addresses the phenomenology of space and the subjectivity of perception, studied through photography and installation. Through interaction and manipulation, he questions the way we perceive things by expanding analyses and given contexts.
The exhibition includes a series of large photographic prints and a sculptural installation of living mudskipper fish. The prints miscommunicate their subject: the sea. Wave ripples and singular reflections of light are obscured, as if the body of water is distilled down to its prototypical component. The camera interjects space between the object (the sea) and the subjective viewpoint (Steve, the photographer): pockets of air and tiny ventilation systems nestled amongst the metal, plastic and glass lenses of its inside construction affect the final photograph. Via the depth of the camera apparatus, coupled with McCullagh's own tendency to manipulate subjects, the viewer is tasked with considering their perception of the sea, paralleled against the camera's suggestion of its identity.
The mudskippers' perception of their surroundings upholds the show. They are actively, constantly perceiving the gallery space in their consciousness, underpinning perception itself as an object being exhibited. The viewer is encouraged to consider the mudskippers' experience within the space against their own. The space between two perceiving bodies can never be overcome; so the path of perception from object to perceiving body will always be different. It will always be subjective.
'Life on Land' is accompanied by two commissioned texts addressing the key theoretical concerns embedded in McCullagh's exhibition, by Dr. Francis Halsall, (Co-Director MA Art in the Contemporary World, National College of Art and Design, Dublin) and Dr. Ruby Wallis, (MFA Lecturer, Burren College of Art, Galway). These texts are published in a booklet designed by the artist, available for free in the gallery.
Artist's biography
Steve McCullagh is presenting further bodies of work this month in Belfast, including Diane's Mirror, Ulster University, MFA exhibition 8th – 15th June 2018 and Mirror Work, Artcetera, 7th -28th June 2018.
McCullagh is based at Sun Studios, Brunswick Street, Dublin. He has previously presented work at Temple Bar Gallery + Studios, Dublin; International Remote Photography Festival, Donegal; The Complex, Dublin; Centre for Creative Practices, Dublin; The Joinery, Dublin; and Moxie Dublin.
For more information, see the artist's website: www.stevemccullagh.com
With thanks to Dr. Francis Halsall, Dr. Ruby Wallis and curator Emer Lynch.
Opening Thursday 7th June 6pm – 9pm
Exhibition continues until 30th June 2018
Photo Credit: Simon Mills