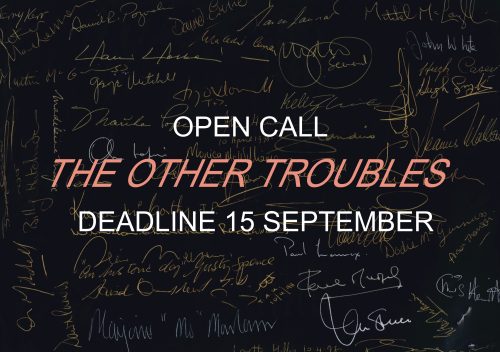 Open Call: The Other Troubles
Deadline: 15th September 2019
Independent curators Adrian Ramos and Siobhan Kelly are seeking proposals in response to
the question "What do we think after the Troubles?" The aim of this exhibition is neither to
dismiss history and its consequences, nor to provide 'the solution', but to create a space for
conversation and exchange of ideas.
The cleanest version of history would suggest that The Troubles ended with the Good Friday
Agreement in 1998. There is a generation born just before or just after this pivotal moment
and coming of age… well, now. These young people are living in between what was and
what is not yet, facing a future as uncertain as it is full of new ideas and possibilities.
This project invites young and emerging artists practising in Northern Ireland and The
Republic of Ireland to respond this deliberately open question.
Applications are welcome from artists from all backgrounds and at any stage in their career,
however a preference will be given to young and emerging artists. Prior experience is not a
condition of acceptance.
Responses are welcome in any form: video, installation, performance, painting, sculpture,
etc. Selected works will be presented in a group exhibition at Platform Arts in October 2019.
To apply please send the following in a single PDF (max. 5 MB) to
theothertroubles@gmail.com with "Proposal: The Other Troubles" in the subject line.
Successful applicants will be informed by September 20th.
1. Artist Statement (max 500 words)
2. Artist CV
3. 5-10 images of your work and/or 3 links to video work.
4. A Proposal for work for The Other Troubles, including dimensions and technical
requirements (max 500 words)
Please note that participation is free, but there are no artist fees associated with this
opportunity. Artists must provide their own equipment for any proposed works.
Accompanying image: A signed copy of the original Good Friday Agreement proposal,
courtesy of Whytes.com